These are the WordPress tools, products and services I use and have joined their affiliate programs. If you click one of these links and it results in a purchase, at no additional cost to you, I might receive a small commission paid directly to me. I have initiated these affiliate relationships on my own, meaning, no one has requested that I participate in their affiliate program or feature their products in any way. Rather, I enjoy sharing products, services and WordPress tools that I currently use or have worked with on client sites that have netted a positive experience. This list can change frequently — that's why we love the tech industry right?
Genesis Framework
It would be weird to say I build and work with websites on the Genesis Framework and not be an affiliate, right? So yes, this is the best money you can spend to work with the best tried and true platform. The Genesis Framework is a mature, lightweight and SEO-friendly (even on top of WordPress's SEO-friendliness) collection of goodness that we refer to as the parent theme. Having a parent theme lets you put all of your "pretty" in a child theme, your presentation layer. The benefit of that is you can hack up the child theme to your hearts content while Genesis, your parent theme can stay frequently updated with new WordPress core without losing any of your customizations.
StudioPress

Second on the list, with the notion that I could make a strong case that it should be #1, is the spiffy, easy-on-the-eyes, professional looking themes produced by those Genesis folks over at StudioPress. My reasons for it to be considered in the #1 slot is these are what most people see first. I am one of these folks. Back in 2011, before I knew what WordPress was exactly, I had searched online for "wordpress premium themes", and also for "real estate wordpress themes". StudioPress was one of the search results and I fell in love with their styles after only one look. I had bookmarked their themes page and there it say for two years until I became involved with WordPress directly in late 2013. I didn't know exactly how the Genesis Framework fit into the picture, but the look of the StudioPress themes was enough of a hook to keep me coming back for more. Click to check out the latest themes, or, if you're ready to to do client work for others, look for the Developer Pro Pack that gives you ALL the current themes for one hugely discounted price.
Gravity Forms

When adding a web form plugin to your site, there are many to choose from. I chose to use Gravity Forms and I've never looked back. The forms that are free to use and offer add-ons for purchase end up being a lot more expensive in the long run. Even the basic license for Gravity Forms gives you a nice selection of add-ons included, and they discount their annual renewal license as well.
WP Migrate DB Pro

You may not need to migrate sites often, but you will have to at some point. I cannot imagine attempting to do this without WP Migrate DB Pro. This premium plugin handles all things database-related to move from one location to another, with built-in search and replace tools to change one domain name/path to another. They've also added add-ons that take care of moving all those medial files as well, yippee! Seriously, all you have to do is copy plugins and theme files and it will handle everything else.

Website Hosting
Ask five web professionals what web hosting they recommend and you're almost guaranteed to get five different answers, along with a heated discussion to follow. This is just part of the business, and I'm not sure why exactly. I'm not a web hosting expert so I recommend these strictly from personal experience either on my own sites or those of a client.

Hover

I appreciate the philosophy to do one thing really well instead of many things just ok. This is what the folks at Hover have embraced. They are a domain registrar and that is all they do, but they do it well. I like having my domains separate from my hosting. Why? Because if your host is having a problem, you can easily point a site to another location, i.e. not a good idea to have all of your eggs in one tech basket. But probably the main reason I use them is for their UI. I know, you're thinking "you're registering domains, and changed DNS records, who cares about UI?" And I thought that too which is why Hover wasn't my first choice. I gave Namecheap.com a go from another WordPress agency's recommendation, but the interface was so bad and clunky I moved everything over to Hover, despite Namecheap's lower pricing. To be fair, Namecheap.com has since done a full site redesign, but I'm staying with Hover for the foreseeable future.
Flywheel
I recently switched all of my active sites to Flywheel. Their customer service is excellent and even more important, they are fast! You want a good visual experience? Well their UI is really amazing and they have a totally different workflow than your average hosting company. They are geared toward designers — you do not have to be technical in any way regarding setting up hosting. And, they have collaboration in mind from the start — you can get started immediately without a credit card. Just sign up for your own account, start a new site and select the option that the site will be transferred to the client later for payment. Easy peasy – your client can easily take ownership when it's time to go live, and you remain as a user in case you need to log in at a later date/time. P.S. – they also do FREE migrations and have kick-butt support at the ready.
WP Engine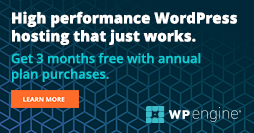 Although I use Flywheel at the moment, I have to add WP Engine back to the list since they acquired Flywheel earlier this year. Also, to be honest, WP Engine provides absolutely solid hosting, especially if you lean more to the developer side of things. On top of that, you'll receive the Genesis Framework and access to a large selection of StudioPress premium themes when you join. And finally, they often have killer discounts with multiple months free on their annual plans. WP Engine is a solid choice!